If you resist the idea of leaving those puppy dog eyes behind every time you head out for lunch, these cafes have come to the rescue! These cafes not only serve sinful delicacies for the pet parents, but special treats and dishes for your furry ones as well! Besides offering a menu for dogs, an open space and amazing decor, these eateries make sure that your dog can enjoy his day out!
Throttle Shrottle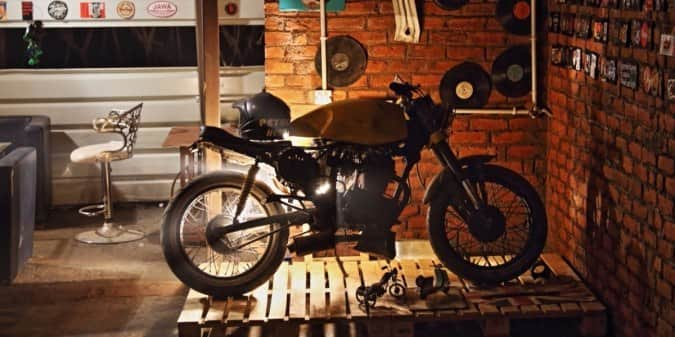 Besides offering a separate menu for your pets to gorge on, this biker- themed cafe in Gurgaon offers a kickass ambiance for the pet parents and bike lovers, a large open space where you can let your dogs out and 24/7 service! All Harley Davidson lovers, don't forget to make a stop at this hub and gorge on their breakfast special, chinese and north Indian delicacies.
Where : Sector 56, Gurgaon – Faridabad Road
Cost For Two : Rs. 400
Also Check Out Their FB Page : https://www.facebook.com/ThrottleShrottle/
Nadir's Ark
Nadir's Ark at Gurgaon is a place dedicated to dogs, offering a pool, a special dog menu, toys and a large open ground for your furry friend to enjoy a perfect day outing. This place offers some mouth watering cheese sandwiches and aloo paranthas for foodies to gorge on along with a perfect desi seating of moorahs to laze around under the sun on the weekend!
Where : Shivam Farmhouse, Behrampur Village, Main Road, Sector 59, Gurgaon
Cost For Two : Rs. 500
Also Check Out Their FB Page : https://www.facebook.com/The-Ark-296642460696895/
Leo's Pizzeria
This place offers a large menu of cheesy pizzas to satiate your pizza cravings. Savour the flavours of their varietal pizzas at this pizzeria along with gulping down their refreshing beverages. All pizza lovers head to this pet friendly pizzeria, which offers an abundance of open space for your pets to run about!
Where : Club Drive Road, Ghitorni, MG Road
Cost For Two : Rs. 1,200
Also Check Out Their Facebook Page : https://www.facebook.com/weknowpizza/
Off The Leash
This place offers great food for the humans and dog treats for your pets. Besides providing a spacious open ground where your pets can run around, Off The Leash also has a swimming pool where your furry one can swim and splash! Visit this cafe to spend a perfect weekend lunch date with your pet friend!
Where : 2nd Floor, Next to Hilton Double Tree Hotel, Golf Course Road, Gurgaon
Cost For Two : Rs. 600
Also Check Out Their FB Page : https://www.facebook.com/offtheleashcafe/